Dharmendra to launch a new restaurant 'He-Man' on Valentine's Day!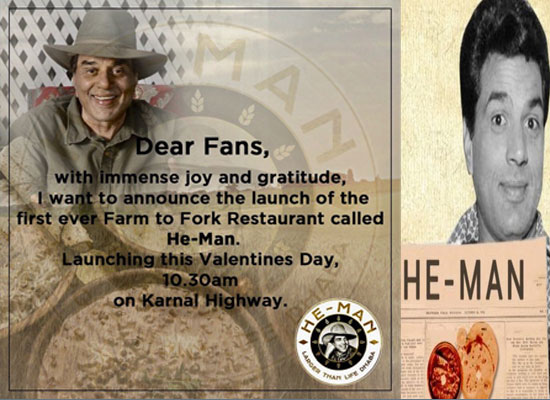 Veteran megastar Dharmendra's second restaurant after the popular Garam Dharam Dhaba will be He-Man. It will open on the Karnal Highway.
Dharmendra, who is usually known as the 'He-Man of Bollywood' wrote on Instagram: "Dear friends, after the success of my restaurant 'Garam Dharam Dhaba' now I'm announcing a first ever Farm to Fork restaurant called 'He Man', friends, I truly appreciate your love, respect and belonging towards me. love you all... your Dharam."
'He-Man of Bollywood' also posted an e-invite for his admirers, which reads: "Dear fans, with immense joy and gratitude, I want to announce the launch of the first ever farm to fork restaurant called He-Man. Launching this Valentine's Day 10.30 a.m. on Karnal Highway."
Dharmendra has been working seriously to set up his farm-to-fork restaurant. He keeps sharing videos on social media of his farm, with farmers exhibiting fresh vegetables like cabbages, gourd, beetroot, brinjals, lady fingers and fruits.