Shahid Kapoor opens up on hiking his fee for Bloody Daddy!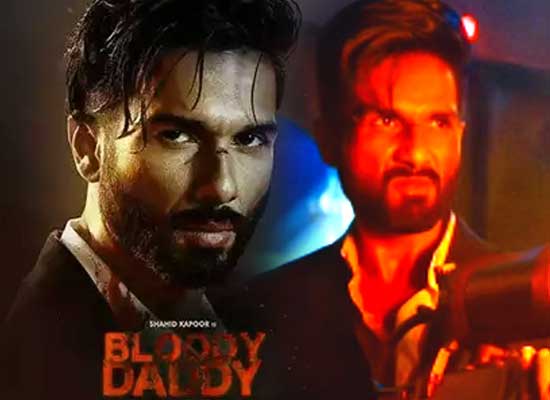 Since the announcement of Shahid Kapoor's upcoming movie, Bloody Daddy, all eyes have been on him. Fans adored the actor's aggressive demeanour and actions in the teaser, and we bet they can't wait for the movie to come out. The entire cast spoke candidly about the action-thriller and more at a trailer launch event held today in Mumbai. There have been rumours that the Jab We Met actor increased his pay for the Ali Abbas Zafar film. He revealed the same at the trailer unveiling today.
According to various reports, Shahid Kapoor allegedly increased his pay following the success of Kabir Singh and charged Rs 40 crore for Bloody Daddy. When questioned about it today at the press conference, the actor jokingly responded, "Are dedo mujhe yaar." The actor was then questioned on whether Bloody Daddy's producers were able to recoup their costs through the sale of streaming rights, to which he said, "Nahi Sir, humne sabko bhade mein leke Jio ko free mein de diya picture." One of the makers also added, "Jitna zaroorat hai, utna OTT de raha hai." "Acha Dekho, yahah pe jo teen log baithe hai, kya hum dukhi lagre hai? Are we looking unhappy, please tell us. Mathematics pe matt ghuso," Shahid then added.
It was apparent from the teaser itself that Bloody Daddy will see Shahid Kapoor in a hardcore action sequence. He was seen performing a lot of stunts and we bet admirers are keenly waiting to see more of it. Well, speaking about the same, Ali Abbas Zafar revealed, "With Shahid, one thing which was never a problem was the action. He has a great understanding of movement and dance. Action is all about rhythm. The action unit was like wow, he has such a great process of understanding. 99% of the action in the film is real and he has done it all," quipped the director.