Sara Ali Khan to reveal about her advice for Ibrahim Ali Khan before his Bollywood debut!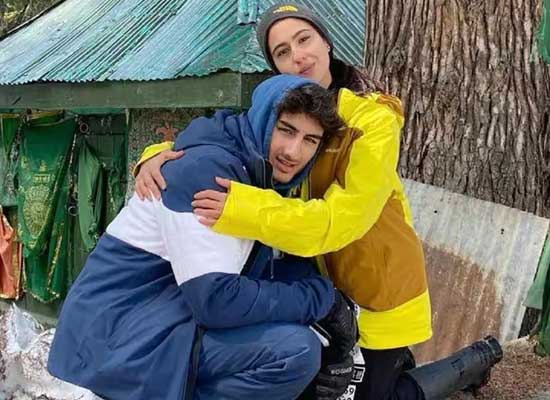 2018 saw
Sara Ali Khan
make her debut in the Hindi film industry. She did, however, finally become well-known in Bollywood after making her screen debut in the romance drama Kedarnath and the action comedy Simmba. Now that her younger brother Ibrahim Ali Khan is about to make his Bollywood debut, the actress can finally hand the reins over to him.
Sara Ali Khan has evolved from a budding actress in Bollywood to a well-known and accomplished performer, while her brother
Ibrahim Ali Khan
is getting ready to break into the industry with the Karan Johar-starring movie Sarzameen, which is being made by Kayoze Irani, the son of Boman Irani. Kajol also appears in the film.
When asked what advice she has for her little brother, the Kedarnath star revealed, "We don't chat much about work and cinema at home, but the advice I would give him is what my parents gave me, follow your heart because there is a truth to that. There will be a lot of noise around you, but you have to stay honest and follow your path because that other person's path you admire already has his/her own journey."
The actress further revealed, "Don't lie, because the camera will catch it and that is something I have learned. For me, being myself comes easy. Even Ibrahim is a different person, he is honest, and his heart is in the right place, and that is what he really needs."
Along with Ibrahim, other celebrity children entering the film profession include Suhana Khan, Khushi Kapoor, and Agastya Nanda. The Coolie No. 1 actress gave the journal advice on how to handle competition, she said, "Of course, there is competition, but there is also work for everyone. I feel secure where I am and the audience today is intelligent and directors know exactly what they want. So, I think we all need to have conviction in our own skill set." Additionally, Ibrahim Ali Khan and Dinesh Vijan are working on their second movie, tentatively named "Diler."