Parineeti Chopra promotes Mission Raniganj with Akshay Kumar ahead of her wedding!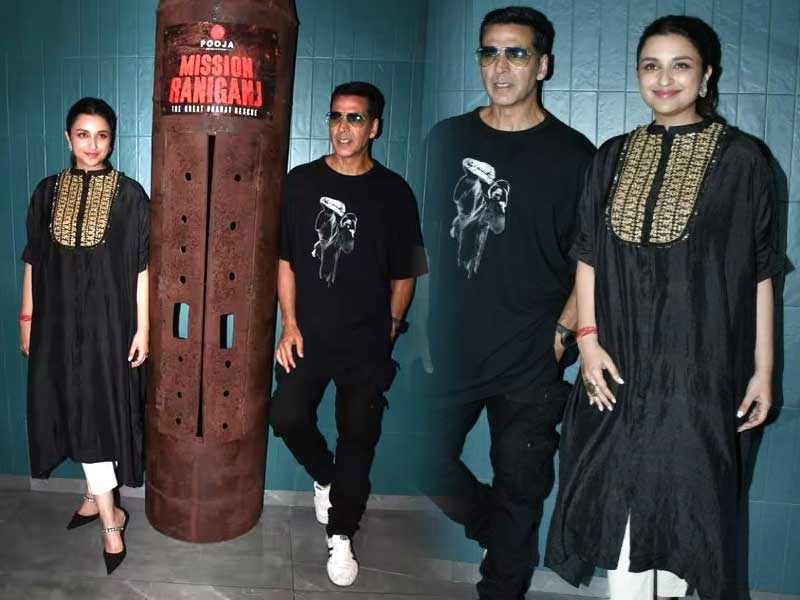 The approaching wedding of Parineeti Chopra and Raghav Chadha is the talk of the town, and the Internet is filled with rumors and conjecture on the date, location, and other specifics of their nuptials. Just yesterday, we exclusively revealed that the actress has finished both the production on her upcoming film Mission Raniganj and all of her brand launch responsibilities. Currently, Parineeti is promoting her next movie Mission Raniganj: The Great Bharat Rescue with her co-star Akshay Kumar in the city before she marries Raghav Chadha.
As they marketed their movie Misson Raniganj, Akshay Kumar and Parineeti Chopra were spotted posing for the photographers. Parineeti wore a light black kurta and white leggings, and she looked stunning. She wore modest earrings and had her hair pulled up in a ponytail. Her black pointed-toe heels complemented her attire flawlessly. She was photographed alongside Akshay Kumar, who wore a casual outfit. He was sporting a black graphic t-shirt, black jeans, and white sneakers.
Initial versions of Mission Raniganj were known as Capsule Gill and The Great Indian Rescue. Finally, Mission Raniganj: The Great Bharat Rescue was chosen as the new title for the movie. The late mining engineer Jaswant Singh Gill, who saved miners stranded in a flooded coal mine in Raniganj in November 1989, is the subject of the movie directed by Tinu Suresh Desai.