The music of Noor is melodious and pleasant with songs Uff Yeh Noor and Gulabi 2.0!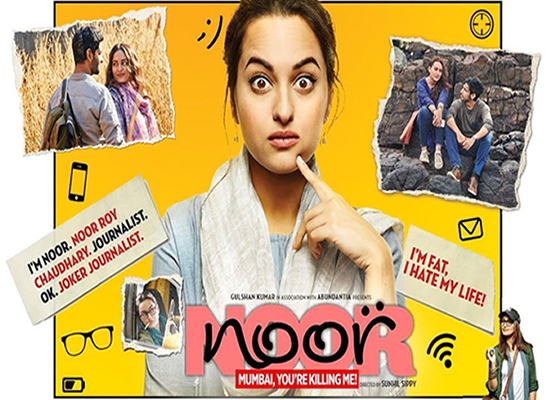 When a film's music album has the name Amaal Mallik attached to it, you do anticipate certain class in the soundtracks. His songs in Badrinath Ki Dulhania are already doing well and now that he is answerable for all four songs in Noor (with Manoj Muntashir and Kumaar chipping in as the lyricists), you anticipate the composer to keep Noor on a high as well.
The soundtrack begins with Uff Yeh Noor. A song that could well have got you into the mood of some rock-n-roll had it been posturized on a leading lady, this one has actually put together for a montage sequence featuring Sonakshi Sinha. A feel good breezy number with some decent lyrics by Manoj Muntashir that narrate a day in life of the main protagonist.
The next song is Gulabi 2.0 which is the recreated version of Gulabi Aankhen Jo Teri Dekhi from R.D. Burman and Anand Bakshi's The Train. Luckily though, this one isn't one of those lazy redone versions that trust entirely on a yesteryear song that has been popular for decades. Instead, it just picks the hook-line of Gulabi Aankhen and indeed lives up to its title of Gulabi 2.0 as it is taken to the next level by Kumaar, what with a cool club sound that is given ample support by Amaal Mallik, Tulsi Kumar & Yash Narvekar. It is a tuneful number.
In the next one, Sukriti Kakar, who had gone all forceful and passionate with the title track Rustom Vahi [Rustom], gets into the lovey-dovey zone for Jise Kehte Pyaar Hai. A romantic song written by Kumaar that could well be the call of first love, this one has a smooth flow to it and stays harmless right through its duration.
In the next, Prakriti Kakar gets her big break with Hai Zaroori. She goes solo for this pathos-filled song that is written well by Manoj Muntashir. A song which narrates the story of a broken heart, this one maintains a decent pace right through its proceeding without turning into a sob fest.
Overall, the music of Noor is appealing and melodious with four songs with one (Gulabi 2.0) finding a repeat version. Moreover, an overall pleasant nature of the soundtrack guarantees that in the film too, the songs are likely to integrate well.
The songs Uff Yeh Noor, Gulabi 2.0 are pleasant and tuneful numbers.