Film Raabta's all songs are tuneful and melodious for listening numerous times.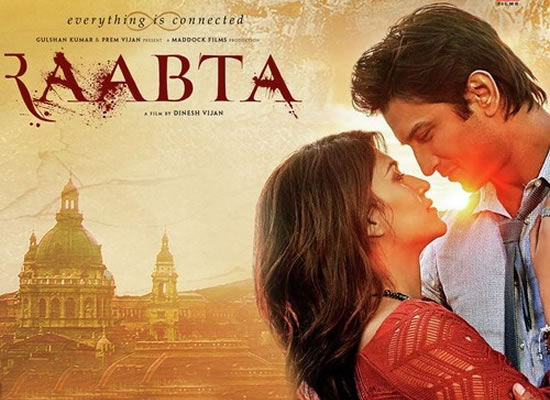 The audio of Raabta has been released recently and that too after each of the songs in the soundtrack has been released on a periodic basis. Well, as one plays the music of this Sushant Singh Rajput and Kriti Sanon starrer, how one wishes that the good old days of releasing a whole album together were back again. Reason being that every track in Raabta works and if only it would all have been released as a package a month ago, the whole album would have become even more popular.
The album begins with Ik Vaari Aa. As the fact that Raabta is a harmonious, Arijit Singh gets the biggest count of songs to his name. Not that his admirers and followers would mind as he delivers well in each of his outings. First to arrive is the romantic number Ik Vaari Aa that has a beautiful sound to it. Just the kind of number that you anticipate from Pritam right at the start of the album as a flagship outing, this one truly fits the bill, and how. Furthermore, it also acts as a last number of the album since there is a Jubin Nautiyal version right at the end with a club sound to it.
The next is Nikhita Gandhi's Raabta Title Song which is a takeoff on the namesake number that was heard first in Agent Vinod. That movie was produced by Dinesh Vijan as well and now that he is turning director with Raabta, it was imperative that he goes back to the hit song from the Saif Ali Khan and Kareena Kapoor Khan starrer and places it in his movie. With a mix of lyrics by Irshad Kamil and Amitabh Bhattacharya, and Arijit Singh making his appearance felt behind the mike as well, the song makes for a enjoyable hearing all over again.
The next song is Sadda Move. Punjabi megastar Diljit Dosanjh pitches in as a singer for Sadda Move where he lends his vocals for Sushant Singh Rajput. He gets good company of Pardeep Singh Sran who had sung Cutie Pie in Ae Dil Hai Mushkil for Pritam and Amitabh Bhattacharya. Now that the same combination has come together for 'Sadda Move' that has a 'bhangra' setting to it with lyrics by Amitabh Bhattacharya and Irshad Kamil, the results are foot tapping all over again.
The next song is Arijit Singh's Lambiyan Si Judaiyan. Song Lambiyan Si Judaiyan turns out to be instantaneously likeable. If at all someone has been in love or is in love and is missing the one who is closest to his or her heart, this one would manage to find an immediate connect. A romantic number that has a very good emotional appeal to it, it has Shadab and Altamash Faridi chipping in too.
The next song is Main Tera Boyfriend. Arijit recreates the version of Main Tera Boyfriend. He teams up with Neha Kakkar & Meet Bros. for this massively popular dance number that has been making waves for many years now. The good work of composer Sohrabuddin and lyricist Jitendra Raghuvanshi is taken forward in the movie version of Raabta and lyricist Kumaar adds in his bit as well. It is another hit number.
The next number is Darasal. Lyricist Irshad Kamil brings on his distinguishing poetic touch to Darasal, a song that is straight out of Pritam stable (though it has JAM8 in the credits). Atif Aslam is brought on board for this romantic solo which is pretty much in the genre of songs that make Raabta the album that it is.
Raabta's soundtrack is excellent that has to be played on loop. Its success is guaranteed. Overall, it's all songs are tuneful and harmonious for listening numerous times.