Film Munna Michael's all songs are tuneful and melodious with a few surprising elements.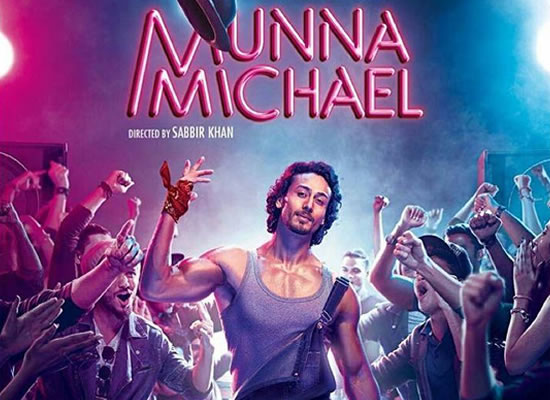 Nowadays, it is an exceptional to find a soundtrack that works in totality. There was Raabta that came a few weeks earlier and did really well. But by and large it is just a couple of songs or so that end up being famous. Well, gratefully that is not really the case with Munna Michael since it doesn't have to rely on just a song or two. Instead, the whole soundtrack of this Sabbir Khan directed film works. Now that's one feat indeed, particularly considering the fact that there are as many as 10 tracks in there.
The album begins with Siddharth Mahadevan's Main Hoon, the leading track of Munna Michael. This is the kind of number that used to be in vogue back in the 80s when Mithun Chakraborty and Govinda ruled the screen. Now that Tiger Shroff is emerging as a dancing star, he is being bold in announcing what he is made of. Lyricist Kumaar's words are bang on and composer Tanishk Bagchi guarantees that he gives his all for the song. It is a melodious number.
The next one is Ding Dang with multiple composers, lyricists and singers. It is clearly the case of a healthy competition between them all. Ding Dang turns out to be tremendously entertaining as well. Yet again one can see Govinda effect coming into play here as Amit Mishra pairs up with Antara Mitra with a full-on 'dhamaal' track that is composed by Javed-Mohsin and boasts of 'tapori' lyrics by Danish Sabri & Sabbir Khan. This is a lively no. with entertaining quotient.
In the next song, Sunidhi Chauhan comes on the scene for Vishal Mishra's sung and composed number Pyar Ho. Written by Kumaar, this one is a love soaked song that plays smoothly with melody looming large right through its duration. There is a 'redux version' as well. It is also a melodious number.
The next one is Pranaay's 'Swag' which is a hip-hop number. As a matter of fact singer Brijesh Shandaliya sings this one in a style that Mika boasts of and if not for his name on the credits, one could well have expected the Punjabi megastar to be behind the mike for this Kumaar and Sabbir Khan written number. Later in the soundtrack, a 'Swag Rebirth' version features too.
In the next song, Kumaar contributes yet again with Beparwah, a fun youthful track that could well have been titled 'Jhoome Jaa' due to the manner in which the phrase features repeatedly right through its duration. Siddharth Basrur brings in all the liveliness into play here while Nandini Deb, who has been known for many stage performances that she has given over the years, is a capable companion for this Gourov-Roshin composed track where she truly makes her presence felt.
In the next song, Meet Bros. and Kanika Kapoor had come together for 'Shake Karaan'. This time around the lyricist is Kumaar and he makes sure that the words are spun well enough to lead into a rhythmic outing.
The next song is 'Feel the Rhythm'. As for those who had been hunting for a song that truly pays homage to Michael Jackson, there is 'Feel the Rhythm' which is written and composed by Pranaay with Rahul Pandey stepping in as the singer. As a matter of fact director Sabbir Khan too pitches in as a lyricist here and together the team does well to come up with a situational outing that should lead to an electrifying affair on screen if picturised well. It is an energetic number.
The last song is 'Beat it Bijuriya'. It is composed and written by Tanishk-Vayu and Asses Kaur and Renesa Baadchi come together for it. Over the years Asees has been known for singing soothing songs that are dipped in melody. As for newcomer Renesa, one would like to hear more of her in a solo outing.
The soundtrack of Munna Michael is melodious and engaging. For Tiger Shroff and newcomer Nidhhi Agerwal, the music is indeed big enough strength that would elevate the prospects of the movie once it hits the screens in July.
The songs Main Hoon, Diong Dang, Pyar Ho, Swag and Beparwah are melodious and enjoyable numbers.