Aamir wants Katrina to redo scenes for Thugs of Hindostan?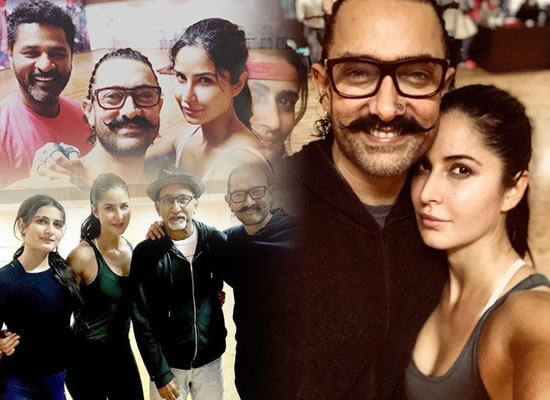 One of the most awaited flicks of 2018 is Vijay Krishna Acharya's Thugs of Hindostan which is packed with a stellar cast. The film stars Aamir Khan, Amitabh Bachchan, Katrina Kaif and Fatima Sana Shaikh in key roles.
Katrina will be performing some high octane action sequences and will have intricate dance numbers as well for which the actor was seen working hard for along with Aamir.
But, as per to a daily, Aamir felt that Katrina needed to redo some of the scenes, particularly the action sequences after he saw a few rushes of the film. Given that Aamir has been given the title of Mr. Perfectionist, this news comes as no surprise but we wonder what Katrina has to say about the same!?
Previously, Katrina spoke about Thugs of Hindostan with a tabloid and told, "As for Thugs Of Hindostan, I don't think we have seen such a well-crafted movie before, as it's a completely different visual. So, that's also the right space to be in."
In the meantime, speaking about her fitness regime for Thugs of Hindostan, Katrina's trainer Yasmin Karachiwala had disclosed, "It was a very hectic song and because of that we really couldn't do a lot of workouts but we did a lot of pilates. A month before the song started we were doing functional circuit training in the gym and pilates and once the song started, in between the four to six hours dance rehearsals with Prabhu Dheva, we started the 20-20-20 workout because we didn't want to do high-intensive workouts as she was anyways dancing for so many hours to learn the dance steps. The 20-20-20 routine is where I work 20 minutes on her upper body, 20 minutes on her leg and 20 minutes on her core on machines of pilates. After the song started it was a different we did classical Pilates exercises for whatever she did like for reflexors or her back. While she was doing the song I would focus on what she needed for the workout. The workouts were basically tailored to what her needs were throughout."
Thugs of Hindostan is scheduled to release on November 7, 2018.