B4u Bollywood Glitz Returns With A Kangana Exclusive!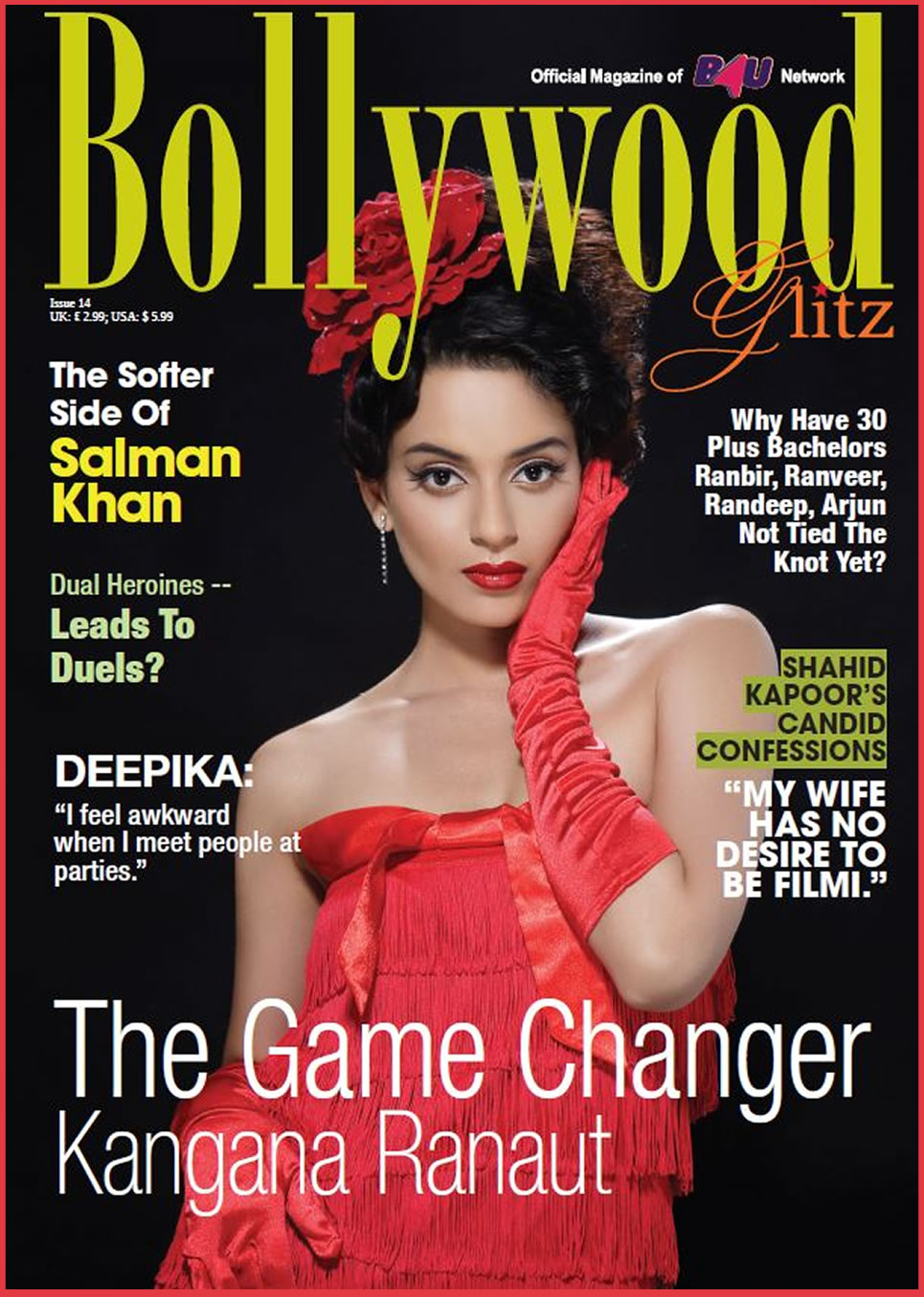 About Magazine
For Advertisers
Technical Details
For Subscription
THE COVER STORY WITH KANGANA RANAUT BRINGS IN THE ISSUE NO. 14 OF BOLLYWOOD GLITZ!
The B4U quarterly Magazine will be the most efficient and effective way to advertise your business. B4U has become an international household brand, with a large fan base, the magazine will have instantaneous appeal. The magazine will be published in the U.K, U.S.A and U.A.E therefore there will be a high readership, ideal for promoting your business to different countries and consumers.
In the midst of Bollywood becoming a worldwide phenomenon, the target audience of the magazine will not only be large but it will be diverse. The Magazine will be aimed at Bollywood fans of the age of 15 and above, and will be the ultimate source for news, gossip, exclusive interviews, music reviews and lifestyle articles.
Being an quarterly issue the B4U magazine is guaranteed a long shelf date, therefore your advert will be available for a longer period of time, allowing you to gain the maximum amount of exposure needed for effective marketing.
As the B4U Magazine is quarterly it will hold its value for years to come and each issue will be treated as a collectable item.
ALL ADVERTS MUST BE SUPPLIED IN ONE OF THE FOLLOWING FORMATS:
PDF file (high resolution) with trims, embedded fonts, 3mm bleed and all layers flattened. - EPS file with trims, 3mm bleed and outlined fonts. TIFF file (CMYK 300 DPI) with trim marks, 3mm bleed and all layers flattened. - No JPEG images of Pantone colours please.
For UK:
To reserve your copy, please send a cheque, for £2.99 +£1 towards postal charges, payable to "B4U Network (Europe) Limited to B4U Network (Europe) Limited, Transputec House, No 19, Heather park drive, Wembley- HA0 1SS, UK.
For US:
To reserve your copy, please send a cheque, for $5.00 + $3 towards postal charges, payable to "B4U US inc, Room 811, 421 Seventh Avenue, New York, N.Y 10001
For Canada:
To reserve your copy, please send a cheque, for $7.00 + $5 towards postal charges, payable to "B4U US inc, B4U Canada, 943, Bristol Road West, Mississauga, Ontario, L5V 2N9, Canada
For UAE:
To reserve your copy, please send a cheque, for 20dhs + 10Dhs towards postal charges, payable to "B4U Middles East, B4U Middle East Limited, Office No. 3, 2nd Floor, CNN Building, Dubai Media City, Dubai, UAE
News break